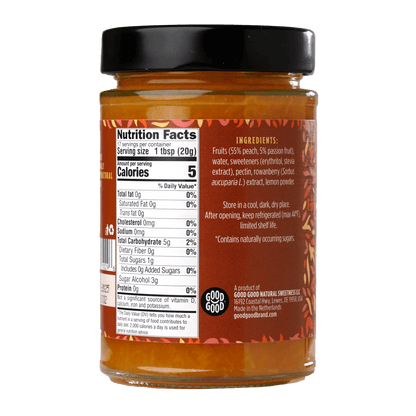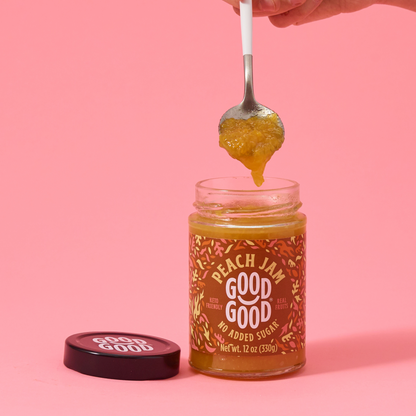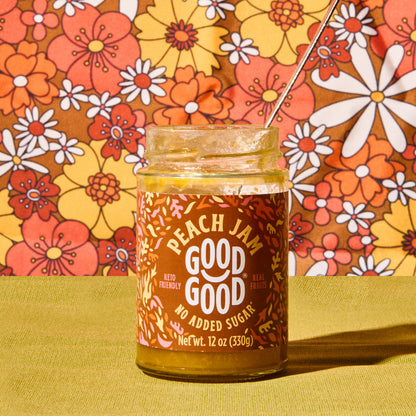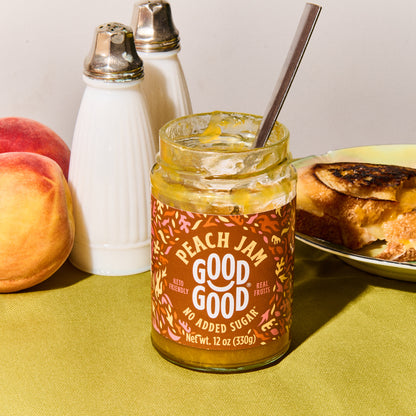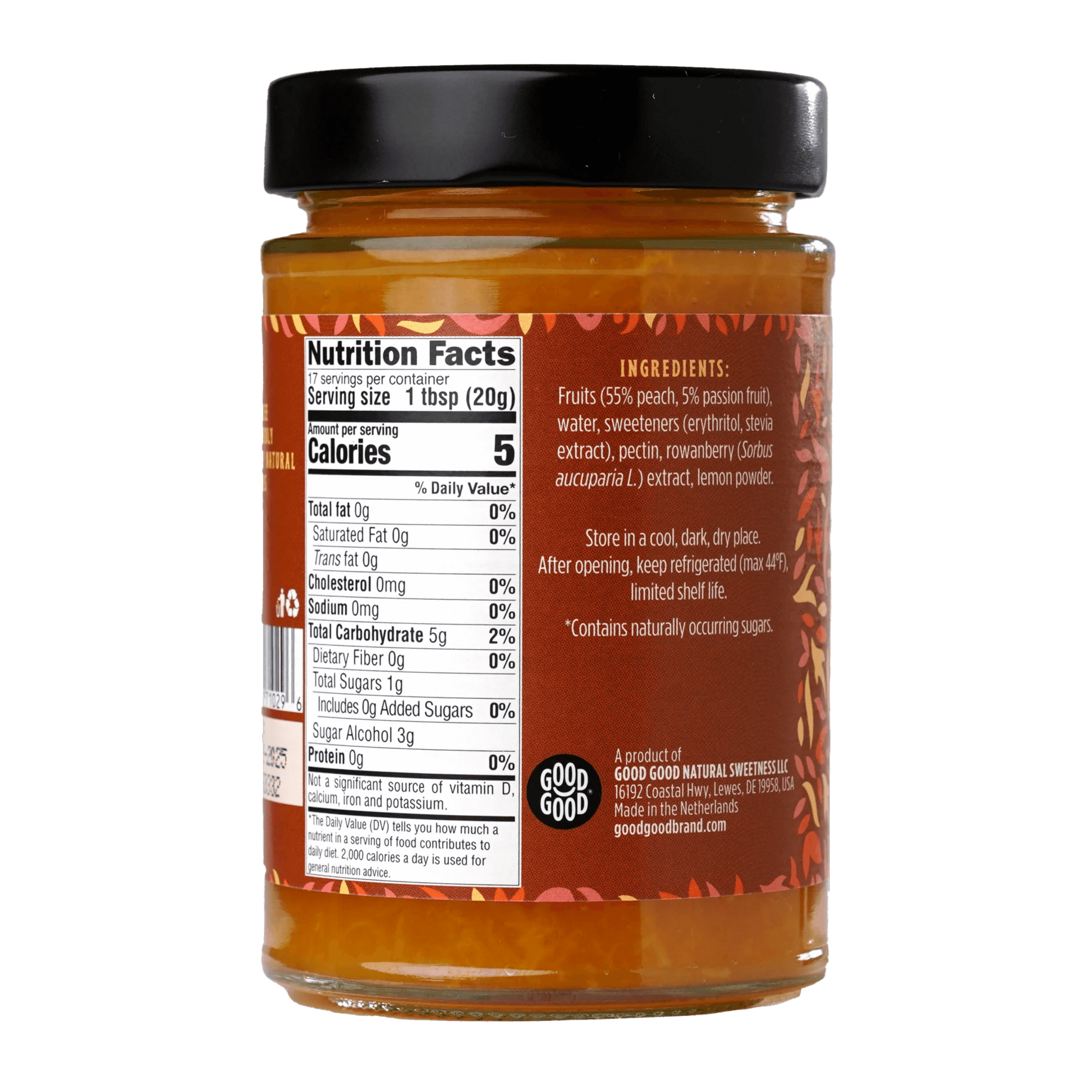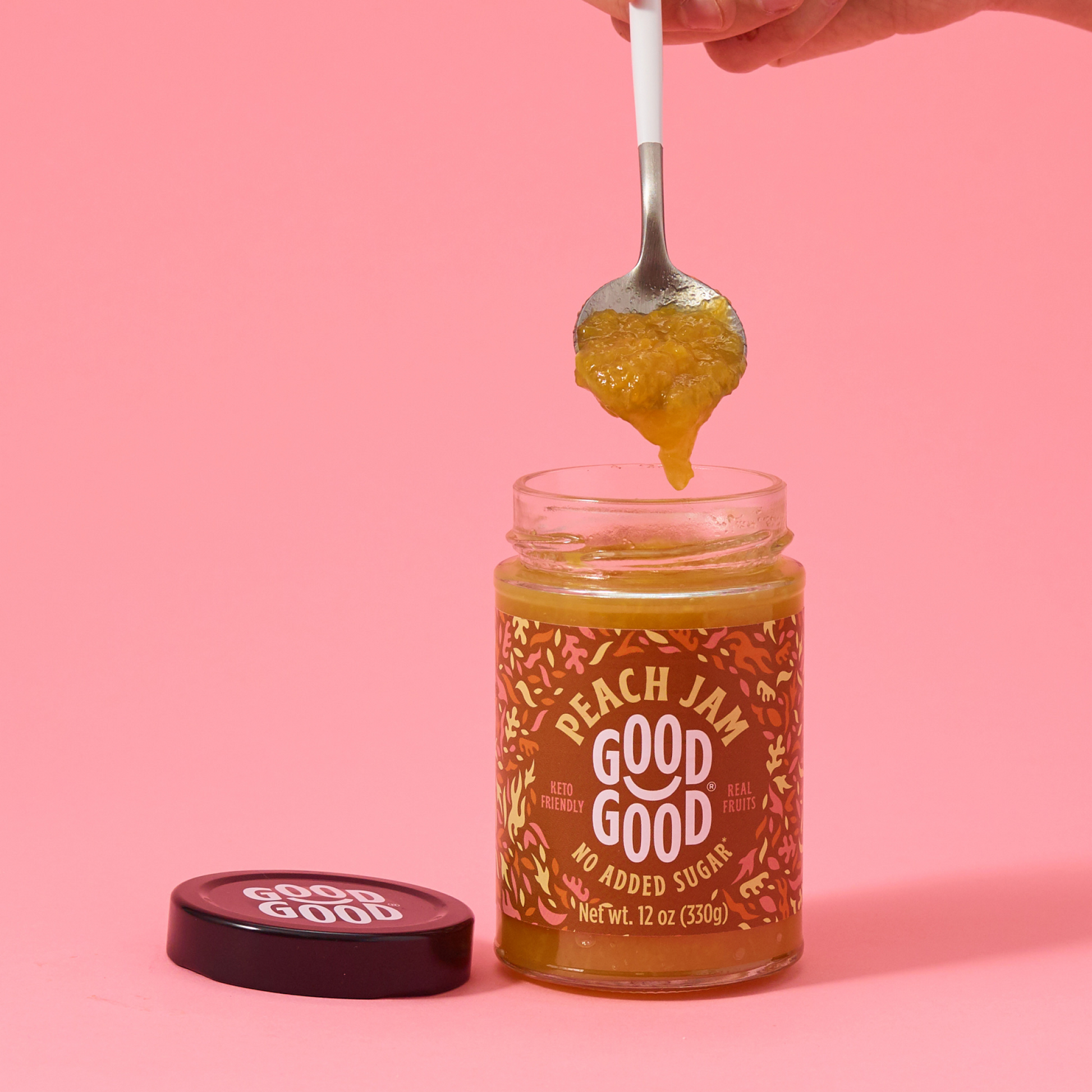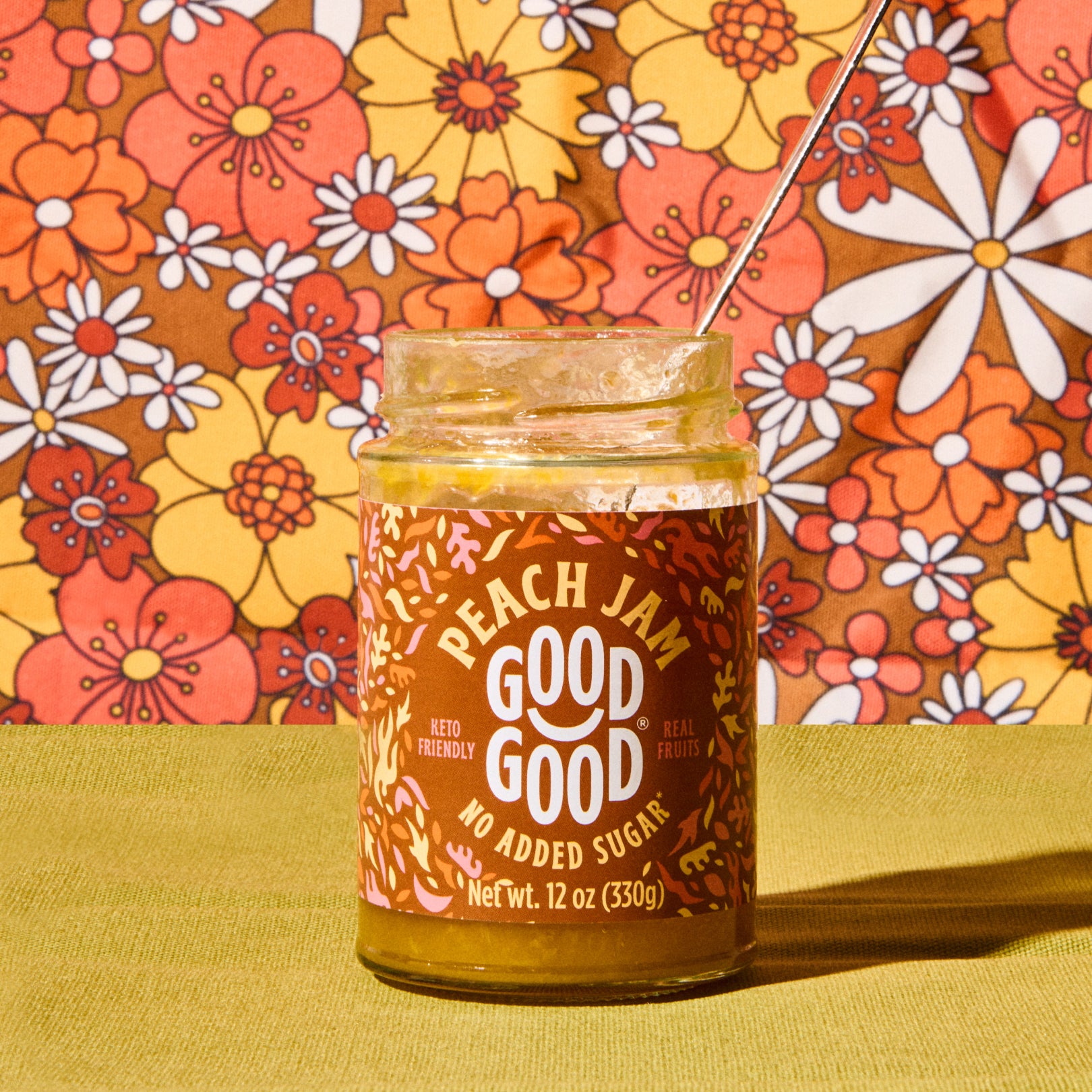 Peach Jam (12oz) - No Added Sugar
$9.99
88% Fewer Calories Than Standard Jam. 
33% More Fruit Than Standard Jam.
Crafted with a meticulous blend of high-quality ingredients, this Peach Jam redefines traditional jams by offering a rich, authentic flavor of ripe peaches.  Made with 60% whole fruit, including 5% passion fruit, and  rowanberry extract, which adds a hint of flavor and acting as a natural preservative, ensuring a delightful jam experience. 
*Contains only natural occurring sugars. 

*Suitable for diabetes management. 

WHOLE FRUIT | KETO | VEGAN | GLUTEN FREE | NON-GMO | PLANT BASED | NON-GLYCEMIC
Authentically Crafted 
No fake fruit

 

No artificial flavors

No artificial sweeteners

No maltodextrin

No artificial preservatives. 

Frequently asked questions
Is this Strawberry Jam really free of added sugar?
Yes, GOOD GOOD Strawberry Jam is made without any added sugar. It's sweetened naturally with the sweetness of strawberries.
Can I consume this strawberry jam if I follow a keto diet?
Absolutely! Our Strawberry Jam is keto-friendly as it contains minimal carbohydrates and is sweetened with natural alternatives like stevia or erythritol.
What are the ingredients used in the Strawberry Jam?
The ingredients in our Strawberry Jam typically include fresh strawberries, a natural sweetener (such as stevia or erythritol), lemon juice (for acidity), and a gelling agent (such as pectin).
Does this strawberry jam contain any artificial sweeteners?
No, our Strawberry Jam does not contain any artificial sweeteners. We use natural sweeteners like stevia or erythritol, which provide a sweet taste without adding sugar or calories.
Is this strawberry jam suitable for diabetics?
Yes, our Strawberry Jam is a great option for individuals diagnosed with diabetes one, diabetes two, and pre diabetes. Since it's free of added sugar and has a low glycemic index, it can be enjoyed in moderation as part of a balanced diabetic diet. However, it's always advisable to consult with a healthcare professional for personalized advice.
Does the absence of added sugar compromise the taste of the strawberry jam?
No, absolutely not! By using nearly 60% real fruit pieces. GOOD GOOD Strawberry Jam tastes like a natural strawberry jam should taste. We think there is absolutely no compromise on taste! Our Strawberry Jam is carefully crafted to preserve the natural sweetness and flavor of fresh strawberries. You'll still experience the delicious taste of strawberries without the need for added sugar.
Is this strawberry jam made with real strawberries?
Yes, our Strawberry Jam is made using real, high-quality strawberries. We select the finest strawberries to ensure the best taste and quality in every jar.
How should I store this strawberry jam?
It is recommended to store our Strawberry Jam in a cool and dry place. Once opened, refrigeration is necessary to maintain its freshness and quality. After opening our jams can last as long as 30 days refrigerated in some cases longer.
Can I use this strawberry jam for baking or cooking?
Absolutely! GOOD GOOD Strawberry Jam can be used in various ways, including spreading it on toast, adding it to yogurt, using it as a filling for cakes or pastries, or even as a glaze for meats. Get creative and enjoy its versatility!
Is this strawberry jam gluten-free?
Yes, our Strawberry Jam is gluten-free. It does not contain any gluten-containing ingredients, making it suitable for individuals with gluten sensitivities or celiac disease.